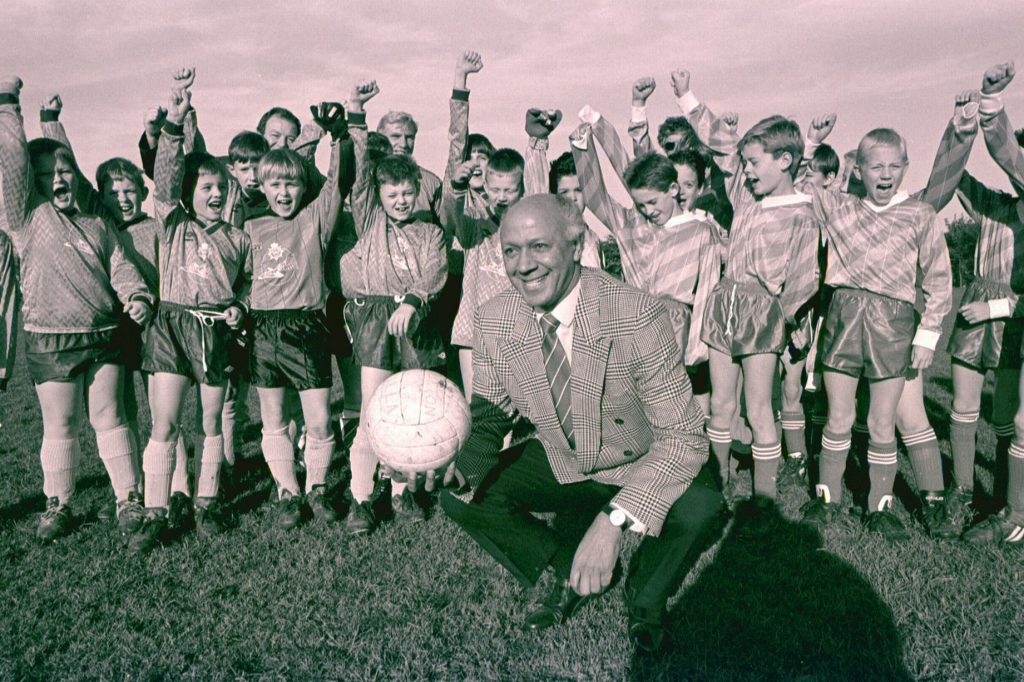 Trubshaw Cross is the founding branch of The Staffordshire Ladsandads Club providing football here in North Staffordshire since February 1967.
Doug Brown a sports physiotherapist and former Lord Mayor of Stoke on Trent, came up with the idea of Ladsandads organising football matches for the benefit of boys who had fewer opportunities to play the beautiful game, lads that didn't make the school team now had the opportunity to play football.
Over the years Ladsandads football spread to other areas such as Blurton, Bentilee, Biddulph, Kidsgrove, Leek, Newcastle and Stoke and players such as Garth Crooks and the Chamberlain brothers have made the step up from Ladsandads football to become apprentices and then professionals at Football League clubs such as Stoke City and Port Vale. Scouts from Premier League and Football League Clubs continue to regularly watch youth football at Trubshaw Cross Playing Fields.
During World War 2 Doug trained as a physiotherapist to help in the recovery of injured soldiers and he continued this work in the newly formed National Health Service.
In 1960 Doug became the Physio for Stoke City under Tony Waddington. His Brother, Roy had played for Stoke city as a young man making his debut in 1941 before the League was interrupted by World War 2. The league did not resume until the 1946-47 season. Brown scored 14 goals in 74 games for Stoke City. In 1953 he was transferred to Watford in Division Three (South). Over the next few years he scored 40 goals in 142 games.
In 1967 Doug set up the first "Lads-and-dads" matches on local school football pitches, which had previously been closed at weekends. For his work with Lads and Dads he was nominated by Footballers Garth Crooks and Robbie Earle (Both originally from Stoke on Trent) for the BBC People's Awards. The same year Doug became an independent councillor, later joining the Labour Party.
He was appointed Lord Mayor in 1984, in 1997 he was appointed as Lord Mayor for the second time, and then later helped to set up "Match Mates" to help combat Hooliganism.
Princess Diana presented Doug with an award for his work in this area. Doug received an honorary degree from Keele University in recognition of his lifetime's
service to young people. He was a Justice of the Peace, President of the North Staffordshire Chinese Community. Doug was also a honorary member of the Grenadier Guards he was also Chairman of the board of governors at Sutherland primary school in Blurton (for 22 years).
Sadly Doug past away, aged 80, in January 2002, after a two-year battle against Motor Neurone Disease. His legacy still continues as Ladsandads still continues to uphold the ideology, ethos and principles that Doug first instilled into Ladsandads back in 1967. Each year Staffordshire Ladsandads holds the Doug Brown Founders Trophy.